The 2021 Subaru Love Promise Customer and Community Commitment Award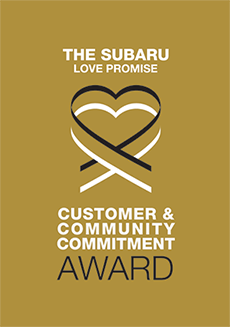 We've been nationally recognized for our dedication to our customers, our community, and the Subaru Love Promise.
We're honored to receive the 2021 Subaru Love Promise Customer and Community Commitment Award. This award nationally recognizes elite Subaru retailers who provide an exceptional customer experience at every interaction with Subaru. These retailers have also demonstrated an outstanding commitment to supporting passions and causes in their local communities in important areas such as the environment, community, health, education, and pets.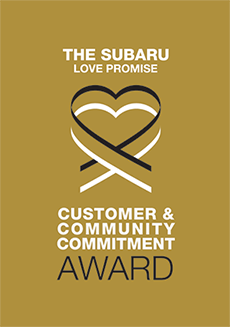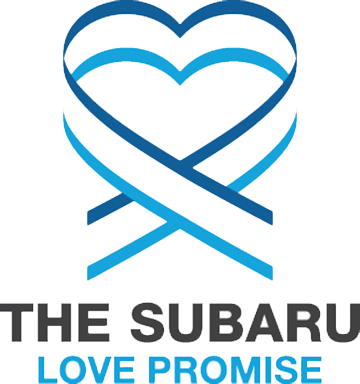 What is the Subaru Love Promise?
Subaru and our retailers believe in making the world a better place and the Subaru Love Promise is our vision of respecting all people. This is our commitment to show love and respect to our customers and to work to make a positive impact in the world.
How is Subaru By-The-Bay dedicated locally to the Love Promise?
Our Love Promise can be seen in various partnerships with local charities and non-profits. We're grateful for the opportunity, not only to be a part of our community, but to serve it as well.
Little Traverse Bay Humane Society, Charlevoix Area Humane Society
Lincoln elementary school, Petoskey Public Libary, Petoskey Education Foundation
Petoskey High School Sports
Love Promise Stories from Subaru By-The-Bay
Subaru and Subaru By-The-Bay believe in making a positive impact on the communities in which we live and work. We uphold that belief through our Love Promise Community Commitment. Every month, we select inspiring stories from customers and partners from around our area who strive to support our collective commitment and feature them here
2021 Petoskey Northmen Boys Golf Team - Chad L
The Petoskey Northmen Boys Golf Team would like to thank Ryan Bremmeyr and the team at Subaru by the Bay for their generous gift and support for the Boys golf team. Every year as expenses grow, more and more of the financial burden to play is placed on the kids and their families. The generous support from Subaru by the Bay reduces that burden and allows the kids to acquire new gear and attend competitive tournaments throughout the season. Thank you Subaru by the Bay, 2021 Petoskey Northmen Boys Golf Team
---
Petoskey High School Boys Golf - Jim R
The great team at Subaru by the Bay once again supported the Petoskey High School Boys Golf Team! We couldn't support these young men without the wonderful support of our friends at Subaru by the Bay. Thank you for being such an important part of our community!
---
Thank you for Supporting Meals on Wheels - Char D
Through the Share the Love events over the last four years, Friendship Centers of Emmet County has raised over $33,000 with the help of Subaru By the Bay. That equals the cost of more than 3,200 meals delivered to homebound seniors in Emmet County. Like Meals on Wheels, Subaru is committed to improving the lives of senior adults in our community and dedicated to providing clients excellent customer service. The Subaru Share the Love events help us continue reaching out to seniors with a hot meal and a warm smile. In our rural area, often times the Meals on Wheels delivery driver is the only person a homebound senior sees each day. Thanks to the Subaru Share the Love events, Friendship Centers has been able to continue and grow this valuable service in our community. During the 2020 Share the Love event, with the help of Subaru By the Bay, Friendship Centers distributed 272 curb-side and 127 home delivered prime rib dinners. And the love was also shared with the local homeless shelters as seniors stuffed the trunk of a Subaru and a Meals on Wheels vehicle with donations of food, paper products, and personal care items. Thank you Subaru By the Bay for your continued support.
---
Subaru Bay the Bay Brings Warmth - Mike W
Subaru By the Bay shared their love with The Nehemiah Project homeless shelter this year with a huge delivery of blankets. We are so grateful to Ryan and Subaru By the Bay for their thoughtfulness and desire to care for the men, women and children who come to stay at the shelter. Our guests can continue to be wrapped in the warmth of these blankets as they move on from the shelter to the next phase of their lives. Thank you for caring and support for those experiencing homelessness here in northern Michigan.
---
Rescuing each other - Jessica E
Sometimes people need the animals they adopt just as much as the animals need them. That was the case with Jon Hoskins, a veteran who was grieving from the passing of his beloved dog. He felt lost without his dog who provided him with emotional support after serving in the military. Thankfully, Ian, one-year-old Lab mix, needed someone as well. When Jon met Ian, he felt a connection with him immediately and decided that he would be a good fit in his home with his wife and four young children. Through the Subaru National Make A Dog's Day, Ian's adoption was sponsored by Subaru by the Bay. Ian has helped fill the void in Jon's heart and home after the passing of his last dog, and everyone is doing well together. We are extremely grateful to Subaru by the Bay for their continued support of our organization and for including us in the Subaru National Make A Dog's Day!
---
The Manna On Air Food Drive - Hunter P
The staff at MacDonald Garber Broadcasting, along with the Manna Food Project want to thank Subaru By the Bay for their gracious donation to the On-Air Food Drive. With their help, along with several others we able to raise over $16,000 for Manna's partner agencies and the Father Fred Foundation!
---
Lifesaving support from Share the Love - Jessica E
We are so appreciative to be chosen as the hometown charity for the past seven years for the Subaru Share the Love Event. Subaru by the Bay has been extremely supportive of our shelter and the lifesaving work that we do. The funds we receive from the Subaru Share the Love Event help us care for nearly 550 dogs and cats each year. Each animal is provided with nutritious food, medical care and everything they need to get ready for a new home of their own. This January, we rescued 14 dogs from a bad situation in Emmet County. The dogs were all severely neglected with matted fur and overgrown nails and some had additional medical issues. After providing them with baths and haircuts, some healthy food, medical care and a lot of TLC, we were able to help each of these dogs find loving, forever families. Subaru by the Bay plays a huge part in allowing us rescue animals such as these. By supporting our work with the Share the Love Event, they are directly helping us save lives. We couldn't be more grateful!
---
Petoskey Boys Golf Support - Jim R
I just wanted to say "thank you" to everyone at Subaru by the Bay! They have graciously supported and sponsored the Petoskey Boys Golf Team for several years....including this season. Without great community members like Subaru by the Bay, our program couldn't provide the equipment and experiences for our young men. Thank you! Your involvement means everything!
---
Legend and WoofStock! - Scott M
At 1:28 April 22nd Animal Control Officer Emily Reynolds received a call of a lost suffering dog in Charlevoix County Michigan. The report read: A gentleman was waiting by a dog on the dirt road portion of Ridge Rd, just past the new trees with white wraps on them. He was waiting with a brown mix breed dog with a mouth full of porcupine quills and limping. Officer Reynolds arrived finding Legend, (that is what we named him) cowering in a garbage compost pile at a local cherry orchard, timid and very unsure of those who were there to rescue him. He backed away whimpering. Officer Reynolds took about 15 minutes to capture him, tempting him with a Beef Stick Chewy treat, but he couldn't chew it as his mouth was full of sharp and painful porcupine quills. The officer drove directly to one of our local veterinarian where they had to sedate Legend to pull the quills, taking over 50 minutes. They stopped counting at 200 quills, realizing there must have been two porcupines involved as there were large quills and small, possibly a mother protecting a baby. Legend's quills permeated his whole face, they were millimeters from his eyes, piercing his chest, in his paws, legs, nose, mouth, and even in his throat. The wounds had become infected, as he had been grudgingly harboring these quill infestations for over a week. He couldn't eat or drink. He was emaciated, skin and bones and starving to death. After his traumatic Doctor visit (Legend was a trooper, he wasn't happy by any means, but you could tell he knew he was being rescued) he was brought to our shelter. Legend was terrified in his new environment, he and his body quivered in a state of fear and shock. The experienced Charlevoix Area Humane Society shelter staff handled him with kid gloves; they were loving, patient, and very sympathetic to his trauma. We nurtured him with a special diet of broth, then soft foods, he gradually gained strength to stand and greet staff, at first timidly, then in time with enthusiasm and trust. Legend a week after the porcupine quills removed, bathed and doctored up. Our staff and volunteers at the shelter walked and socialized Legend as soon as he had the strength and was comfortable enough in his new surroundings. Once up-to-date on vaccinations and Neutered, we posted him on our facebook page, our adoption page on our website and the local paper as ready for adoption. In less than two months the perfect family for Legend magically appeared! In my opinion there is no dog that has suffered more, more deserving, no dog luckier than Legend to find such wonderful people. It's the stuff Legends are made of! Legend at this very point in time is spending the holiday season on a yacht with his new forever family in Puerto Rico, he's there for the winters and in Beautiful Harbor Springs in Northern Michigan in the summers The Charlevoix Area Humane Society is proud to partner with Subaru By-the-Bay in our annual Pet and Music Festival WoofStock at Mackinaw Trail Winery. Every year this Pet and Music lovers event brings dog lovers, musicians, music lovers and beer and wine devotes together to celebrate and raise critically important funds to support the mission of the Charlevoix Area Humane Society "To practice and promote the principle that every life is precious. As such, we are committed to the highest principles of humane care and professional treatment of injured, ill, neglected or abused animals". This event wouldn't be possible without the generous support of folks like Subaru By-the-Bay! The CAHS could not do the critically important work we do without business like Subaru By-The -Bay and their animal loving costumers. We look forward to many years of future event partnerships with this amazing and caring team, all the while supporting animals and the people who love them! Scott MacKenzie Executive Director Charlevoix Area Humane Society
---
Rescuing Buddy and Tucker - Jessica E
At Little Traverse Bay Humane Society, our mission is to save lives and to provide a better life for animals everywhere. This starts in our own community first and foremost. When we learned about a couple of dogs who were left to freeze chained in their backyard just outside Petoskey, we jumped in to save them before it was too late. When we hiked to the back of the house to investigate the situation, it was apparent that these dogs were in immediate need of rescue. A recent snowstorm had left their tiny, shabby doghouse buried in snow, making it impossible for either dog to use it. Each dog had about six feet of heavy chain attached to them, resulting in limited mobility. As we walked up to them, they barked uncontrollably, notably excited to see someone—anyone—in quite some time. As we unchained them, they took off in the direction of our van, eager to leave their current situation far behind them. Shortly after arriving at the shelter and eating a good dinner, they settled onto a warm bed and quickly fell asleep. Buddy and Tucker's story is a sad one, but ultimately one of hope and new beginnings. At Little Traverse Bay Humane Society, we rescue over 800 dogs and cats every year. We give them a warm bed, nutritious food, medical care and individual love and attention during their stay here. As a no-kill facility, animals stay at our shelter until they find a home of their own, no matter how long it takes. We are so grateful to Subaru by the Bay for supporting us in the lifesaving work we do. It's initiatives such as the Subaru Share the Love Event, which we've been invited to participate in for the past six years, that help make this work possible. Because of their support, we're able to help dogs like Buddy and Tucker and give them a second chance at a new life.
---
Subaru By the Bay Delivers Blankets - Jo B
On July 11h, Subaru By-the-Bay, Bay Shore, Michigan, donated 80 warming blankets for patients to use at Karmanos Cancer Center McLaren Northern - Petoskey. Graciously receiving these blankets on behalf of Karmanos Cancer Center McLaren Northern – Petoskey was Noelle Behling and other staff members. Blankets warm patients who are undergoing chemotherapy treatment, providing them with a cozy experience during a difficult time. Thanks to Karmanos Cancer Center McLaren Northern - Petoskey, Subaru and LLS, we are making connections that count!
---
Giving Warmth to Patients - Catherine D
The Karmanos Cancer Institute at McLaren Northern Michigan received over 60 blankets in hopes to provide needed support and "warmth" to oncology patients in northern Michigan. Subaru by the Bay donated the blankets as part of Subaru Loves to Care, in collaboration with Subaru of America and The Leukemia & Lymphoma Society.
---
True Love Is Rescued at Little Traverse Bay Humane - Teresa C
Little Traverse Bay Humane Society is a donor-funded, non-profit corporation that offers a temporary home to companion animals. As a no-kill shelter, our mission is to offer warm shelter, veterinary services, and personal attention to all the animals in our care, as well as proactive methods to control pet overpopulation. Little Traverse Bay Humane Society is committed to educating the public about the humane treatment of companion animals.
---